Drupal Business Survey 2018 results are in!
The last couple of months Exove and One Shoe worked closely with the Drupal Association on the global Drupal business survey to assess current trends, adoption of emerging technologies and shifting perspectives on the Drupal landscape. The survey was open during July and August. In these two months 136 Drupal agency leaders and decision makers worldwide were surveyed to learn where the Drupal industry is heading and how the Drupal community can chart their course for Drupal's success in the years to come.
According to the survey, the Drupal client landscape has been changing with the continuing adoption of Drupal 8. For many of the respondents, the sales pipeline and average deal size has grown – while a number of companies struggle with client acquisition and moving to Drupal 8. The surveyed companies are using various strategies to adapt to the changed situation. As in the previous surveys, the Drupal talent availability is seen as one of the major challenges.
Survey participants were Drupal business leaders from around the world
Most surveyed companies and offices are based in Europe (63 %) followed by 40 % in North America and 7,4 % in Asia. Out of the total responses, most participants of the survey had the role of founder (65,9 %), CEO (50,4 %) CTO (18,5 %) and COO (1,5 %). A little over 30 % of the respondents stated that their company existed for over 14 years, followed by almost 20 % of the companies who've existed between 10 - 11 years. 60 % of the companies who filled in the survey have just one office, with 19,3 % two offices.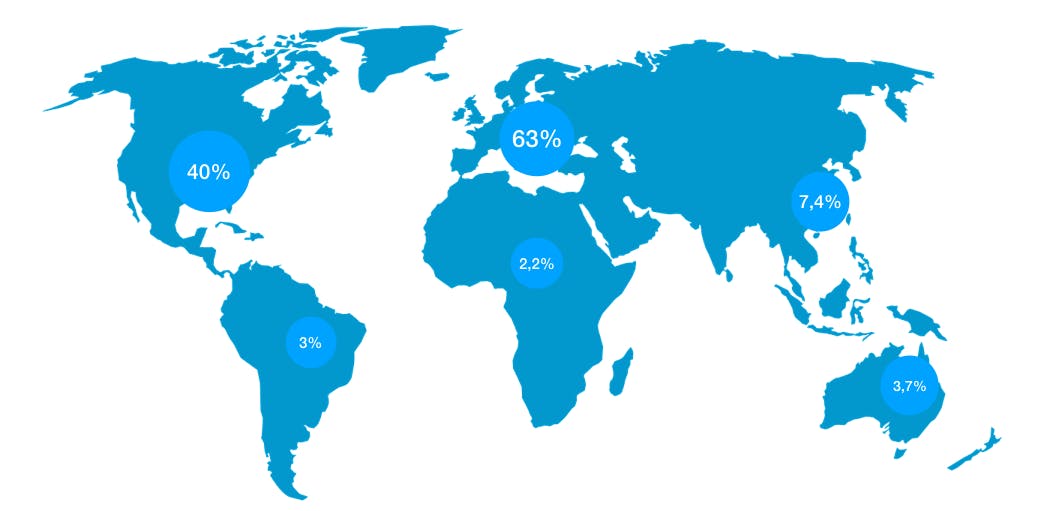 A little over a half (54,8 %) of the companies stated that they are a digital agency. 14,8 % define their profile as a software company with 10,4 % as a consulting agency.  
Almost all (94,8 %) of the respondents said that their company provides web development. A majority of the companies shared that they provide visual design (65,9 %), user experience (68,1 %), system integration (67,4 %) or support (59,3 %). These answers are very similar to the results of last year's survey.
The workfield of the Drupal agencies has become more industry specific
Drupal companies have clients in diverse industries. More than half (59,3 %) of the respondents reported to have Drupal clients in Charities & Non-Profit organisations. Other industries are Government & Public Administration (54,8 %), Healthcare & Medicine (47,4 %), Arts & Culture (41,5 %) and IT (40,7 %). Based on the responses, it can be stated that Drupal companies are becoming more industry specific. The Drupal Business Survey responses of the last three years show that each year, fewer companies have clients in every industry. The outcome of the surveys show that the industries of Media and Banking & Insurance have had the biggest drop, while Healthcare & Medicine and Consulting have grown the most from the first survey.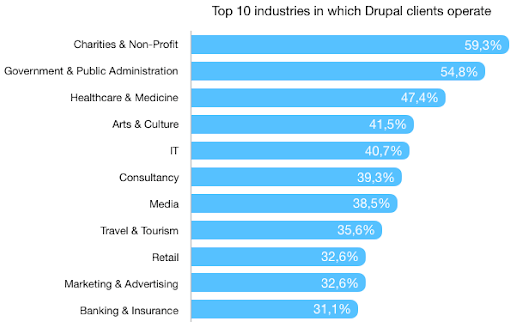 Compared to 2016/2017/2018: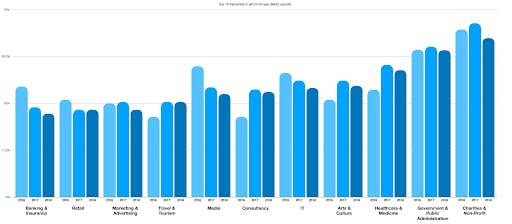 Biggest challenges in recruitment, client acquisition and Drupal 8 adoption
The outcome of the survey shows that in the last 12 months the Drupal agencies faced three main challenges, namely recruitment (24 %), client acquisition/pipeline (17 %) and conversion to Drupal 8 (14 %). These three challenges are analysed in the following parts of this article.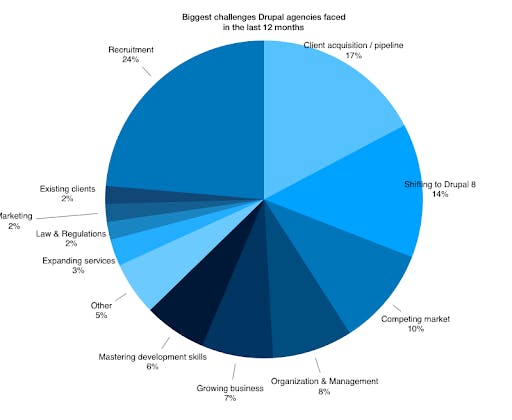 Recruitment – a war on Drupal talent
The Drupal agencies wanting to grow, know the importance of Drupal talent. For years, the demand for Drupal talent has exceeded the supply. According to this year's survey, agency leaders see recruiting new employees as their biggest challenge. That's nothing new: the lack of developers is a universally known challenge, that applies to not only Drupal developers. According to research from The App Association, there are 223,000 job openings for software developers in the US alone. And in Finland alone there is a shortage of 10 000 developers (source: Code from Finland).  
One of the recipients describes their challenge of the last 12 months as:
'A war on talent'.
But still: the demand for digital services is great and the stakes are high. Agencies simply need manpower to continue to grow their business (59 %): 'We hit a productivity ceiling and need to expand if we were ever to have capacity to provide for further growth.' The lack of Drupal talent can be a threat for new projects: 'We lose out on opportunities because our capacity is too low.'  
The answers of the surveyed pointed out that scarcity and financial compensation continue to be the main obstacles for attracting employees with experience and/or (highly) skilled in Drupal. A lot of the respondents mention that senior developers are typically very expensive to hire, while junior developers match the budget.
'Every year we hear that Drupal agencies can't find talent. What they often mean is that they can't find talent at the rates they are willing to pay.'
'Most of the Drupal talent is either completely new to Drupal or already skilled and working, requiring a strong incentive to change positions.'
However, despite the difficulties, 80 % of the agency leaders did hire new employees in the last year and managed to meet their Drupal talent needs, mostly by actively prospecting and hunting Drupal specialists (51,5 %). According to the respondents, it also seems to be a good strategy to motivate and educate people for Drupal who are not familiar with Drupal before, but are willing to learn: agencies hire graduates/juniors (47 %) or hire experienced developers (35,8 %) and train them in Drupal themselves.
Opportunities in collaborating with education institutes
Respondents advise to collaborate more with education institutes and other organizations to prepare interested and motivated people to become the Drupal experts of tomorrow. As one suggests:
'We need further engagement between tertiary institutes and industry to ensure open-source platforms and industry standard development methodologies are taught to address the medium term skills shortage.'
One respondent told us they even started their own Academy in collaboration with tech universities.
Changed Drupal playing field brings new challenges
Over the last couple of years, Drupal has undergone major changes. For one, Drupal 8 was released. Also, Drupal starts to play more and more a role as the backend for headless or decoupled CMSs, Drupal is evolving towards an API-first platform and is competing head to head with proprietary platforms like Sitecore and Adobe Experience Manager.
These changes inevitably impact the Drupal market. It's therefore no surprise that the second biggest challenge (17 %) for agencies in the last 12 months had to do with generating leads for Drupal focused projects or the acquisition of new and suitable customers. This raises different reactions. It is clear that the changed playing field of Drupal benefits certain companies, while others struggle with the change:
'The landscape is changing seismically. We are seeing smaller competitors shrink whilst those delivering enterprise and business critical services are prospering. With Drupal 8 we are winning in many situations where platform decisions are open.'
'The (other) challenge we've been facing is the perceived lack of interest in Drupal overall, specifically on the commerce side. We've been working hard to educate the market on the viability of open source for commerce using Drupal, but have a lot more work to do to get a foot in the door in that enterprise market.'
One of the companies also seemed to notice a slower growth on the Drupal market:    
'Drupal is facing competition from several directions: WordPress is no longer a blog platform but equals Drupal. Increased demand for static site in combination with cloud CMS-es and developers losing interest in Drupal in favour of .JS and lightweight PHP frameworks.''
'JS-based frameworks are more in demand and PHP is losing its appeal.'
'Decoupled: We see a role for Drupal in the decoupled world, however we are still behind on what Drupal should deliver to be an API backend first choice.'
Average deal size of Drupal projects increased
It is striking that although the client acquisition seemed to be a major challenge for the respondents, a little over half of the Drupal agencies (51,5 %) saw their Drupal project average deal size increasing, with 36,6 % whose average deal size stayed roughly the same and 12 percent (11,9 %) experienced a decrease. This seems to indicate that Drupal projects are becoming bigger and bigger.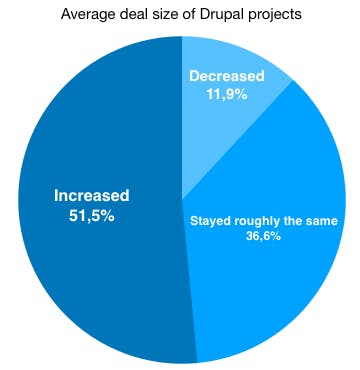 As someone mentioned:
"We see larger and larger deals opening up in the Drupal space. The role played by Acquia is significant in the growth of Drupal in the Enterprise space."
"We are still seeing growing demand for Drupal, especially among large/ enterprise organisations"
Drupal agencies seize new opportunities
In response to the changes within the Drupal market, some agencies have found new opportunities with Drupal by developing new business models.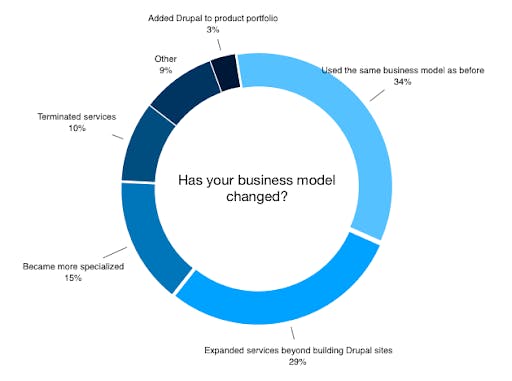 The survey results show that 34,1% of the respondents did not change their business model in the last year. However 28,9 % expanded their services beyond building Drupal sites whilst 15,1% of the agencies chose to become more specialized (focus on specific vertical or industry). Main reason to change their business model was to grow their pipeline better/faster (58,2 %), identification of a better business model (51,6 %) or changing market conditions (50,4 %).
On the one hand, there are the Drupal companies who expand their business by offering new services like consultation or strategic work:
'We are helping more agency and merchant teams adopt Drupal Commerce specifically for Drupal 8 than ever before. They have a strong desire to do things "the right way", which means they're thinking more strategically long term.'
And on the other hand, you have the Drupal agencies who believe that specialization is the answer to keep the pipeline full instead of offering a full-stack service to attract new clients.
'More specialized expertise and strategy are valued more than full stacks development services.'
But the decision from companies to make a change in the business model has more reasons. The agencies who expanded their services also mentioned that they saw a shift in demand from their clients. In other words, the (Drupal) market has changed and those who adapt, have a good chance of succeeding:
'Clients are no longer looking just for software development services. They want the service provider to be deeply involved in the engagement and take responsibility for the business outcomes. They want the vendors to come higher up in the value chain.'
'Even mid-market business leaders are realizing that digital is more than a website. They are seeking to use digital for new revenue streams or to reduce expenses. We have completely revamped our services to offer high level strategic consulting services that address the people, process and technology that affects our client organizations.'
Open source and recommendations help Drupal win in the CMS battle
The competition in the CMS business has become tough, and clients are more aware of the opportunities of different CMS's. This has led to many companies expanding their set of technologies and portfolios, as one of the respondents mentioned:
'There's no CMS we can use as a silver bullet.'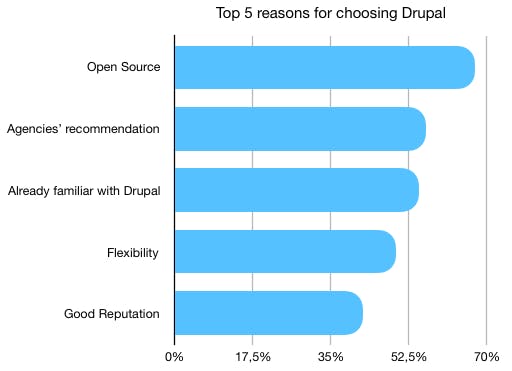 The survey shows that Drupal has a lot of qualities that clients need and search for in a digital platform. The respondents shared that the fact that Drupal is open source is the main reason for clients for choosing Drupal (67,4 %), followed by 56,3 % who said that Drupal was chosen because of the agencies' recommendation. Other reason are because clients are already familiar with Drupal (54,8 %), the CMS's flexibility (49,6 %) or reputation (42,2 %).  
The shift to Drupal 8 has been rocky but brought significant benefits to some companies
The third main challenge (14 %) of the Drupal companies was the conversion to Drupal 8. The upgrade from one major version of Drupal to the next (e.g. from Drupal 7 to Drupal 8) asked much effort, a steep learning curve and a difficult upgrade path. Introducing new technology in general – not just Drupal – will always have the risk of facing some sort of a challenge. Whether it's a delay in introducing new features, unexpected security risks or maybe a more difficult learning curve. One of the agencies stated:
'Adopting Drupal 8 and Drupal Commerce 2 [were the biggest challenges]. There was a significant learning curve for our team and many of the modules (including the ones we were in control of) weren't ready to roll out complete commerce solutions to clients we were committed to.'
Another company told us:
'We have been working with Drupal 8 since beginning of 2016. Since our clients mostly fit in the small business category, we have struggled to push our project budgets high enough to be profitable on Drupal 8 projects, as we were on Drupal 7 projects. It's not easy to say what all the reasons are, but Composer is finicky, major modules weren't ready for the first year or more, security updates are more hassle because of more changes, and the increased bugs and missing features required work-arounds. Against our desires, economics are pushing many projects to Wordpress for its page builders and many plugins. On the bright side, the current Drupal initiatives are exciting!'
'2018 has brought strong growth but we diversified due to slow adoption in 2016/2017. Drupal can learn from this to prevent the same from happening with the launch of Drupal 9 (more quickly available information / modules).'
Dries Buytaert, founder and project lead of Drupal, states on his blog: 'These kind of growing pains are not unfamiliar and one of the key reasons that Drupal has been successful is because we always made big, forward-looking changes. And as a result Drupal is one of very few CMSs that has stayed relevant for 15+ years. We see a way to keep innovating while providing a smooth upgrade path and learning curve from Drupal 8 to Drupal 9.' Right now, the DA works with united forces to make future Drupal upgrades smoother and much simpler than previous upgrades with faster releases with easy upgrades and a smoother learning curve.
Conclusion
The competition on the digital market is and remains strong. New Drupal talent is needed to ensure response to the demand for Drupal. The major changes that Drupal has undergone in the last few years had an impact on client acquisition and the amount of new Drupal projects for the Drupal agencies.
The outcome of the survey shows that the Drupal business community is resourceful and capable of adapting to the continuous changing market by using different strategies. On the one hand, there are the Drupal companies who become full-stack agencies while others believe that specialization is the answer.
One thing is certain: clients want the best CMS for their company. 'There's no CMS we can use as a silver bullet' one agency told us. And although that might be the case, we can still continue to aim for Drupal to become that silver bullet.