Drupal 9 as a CMS for your B2B strategy
Floris Derksen | 04 jun 2020
For B2B companies, simply having an attractive website isn't enough. The website also has to support the chosen marketing strategy so that it can generate leads, for instance.
In this article, we will be examining which elements a digital B2B strategy can be made up of and how the Drupal CMS and its functionality or modules can support the B2B strategy.
The classic B2B funnel
Acquiring clients through digital channels is indispensable nowadays for almost all companies and organisations that operate in a B2B market. A model that is often used for understanding how these clients are obtained is AIDA (Attention, Interest, Desire, Action). This is also referred to as the 'funnel'.
During the client's decision-making process, they go through every step of the funnel and ultimately become a client. This model relies heavily on the idea that potential clients go through each of the steps in sequence, letting them reach the final goal. Your organisation then has to design its marketing activities so that they cover every step in the funnel.
Recent understanding of behaviour has taught us, however, that this process is much more organic and less sequential than people imagine. The linear nature of this funnel has therefore been losing more and more adherents recently and the new understandings of behaviour are resulting in new models.  
A new look at the funnel: the Flywheel model of the funnel
One of the most recent B2B models is the "Flywheel" model from Hubspot. This is a circular model comprising the phases Attract, Engage and Delight.
Instead of a linear process, the Flywheel funnel model assumes a more continuous process for acquiring customers. Different aspects are central in each of the various phases of this process.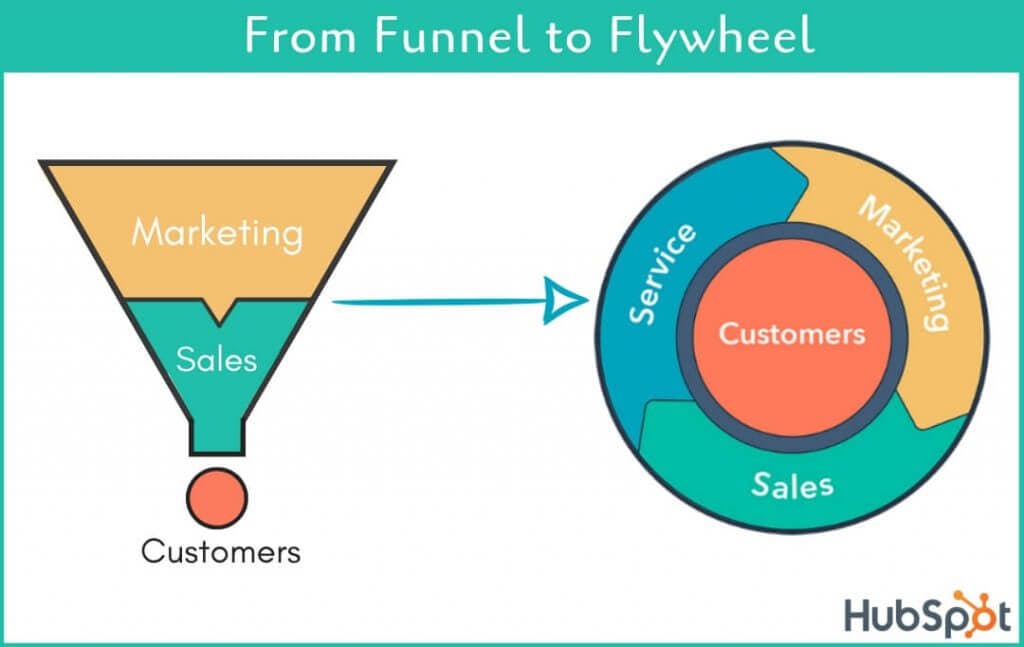 We will be using the phases from the Flywheel funnel model in this article to investigate where Drupal 9 can help facilitate the strategy.
The Flywheel funnel tackled using Drupal 9
What is Drupal?
Drupal is an open-source content management system (CMS) that companies and organisations can use to help develop their websites, manage the content and achieve their digital goals for marketing and services.
1. Attract
The focus during the Attract phase is on coming into contact with prospects by being visible at the moment when they go looking for a solution for their problems or for a way to achieve their goals.
As a marketeer, there are various ways you can go about this:  
A key element of a B2B strategy is content marketing. To reach potential clients, it is important to share knowledge through articles or blogs. In addition, this also helps reinforce your findability in search engines.
Communicating about services
One thing is certain: once you have got people as far as visiting your website, you want your services to be communicated there appropriately. The Drupal CMS provides excellent solutions for this such as the paragraphs module and the layout manager. These functionalities let editors construct the content pages from elements, creating a stratified narrative about your services. One example of where we have done this is the sector pages for DHL Parcel.
The versatility and flexibility of Drupal 9 make it very much a fully complete tool for turning your content strategy into a success. The completely flexible content types, for instance, are well suited to providing content in a variety of structures such as articles, pages and landing pages. The Yoast SEO module and the WYSIWYG editor help content managers to write the correct content and get it optimised for search engines. The content can also be brought to life with e.g. images using the extensive media module.
Additionally, the user interface is pleasing and handy for editors to use. Drupal 9 also has a Content API that can be used for distributing content to mobile apps or other media.
2. Engage
Your communication during the Engage phase is aimed at building relationships with potential clients. Additionally, it is about providing opportunities to start interacting with the organisation.
An obvious approach nowadays is to use landing pages to convince visitors. These are pages that use an elevator pitch to sell a design, product or service to a visitor and then often end with a call to action. Within Drupal 9, the paragraphs module and the layout manager are once again very suitable tools for this. Using various paragraph elements lets the editor construct the page in a way that generates a convincing narrative. Additionally, the editor can link a follow-up step to the page, for example as a web form or a newsletter.
One of the widely used ways of making contact with your target group is using web forms. The web forms module in Drupal 9 is excellent for this. Various fields can be used for building web forms and adjusting them to the desired situation.
The Drupal community also has numerous modules on offer that provide integration with marketing automation systems such as Salesforce, Hubspot and Marketo. These can help you obtain a picture of potential customers and relevant content can be added to them at the right moments. This lets the organisation gradually build up a relationship with potential customers. 
3. Delight
The 'Delight' phase of the Flywheel funnel model focuses on how existing customers perceive your organisation and its services. A positive customer experience will turn them into ambassadors for you and help bring in new clients.
A 'client portal' is indispensable for clients if you're going to make your services available digitally as well. The best way to describe a client portal is as a protected location where existing customers can log in and then start interacting with the organisation. Existing customers can, for instance, be kept up to date, or they can order extra services or get assistance with the services they have already acquired. Drupal 9 is excellent at fulfilling this role. Because aspects such as account functionalities, user registration and user roles are available as out of the box features in Drupal 9, complex service environments and customer portals can be developed. 
Depending on whether its services are suitable, your organisation could also offer additional products such as market reports, tools or software. Drupal 9 offers various e-Commerce functionalities for this such as order management, order flows and payment method integration.
Drupal 9: a versatile CMS for B2B
Based on the functionality listed above, we can state that the versatility of Drupal 9 as a CMS plus the available modules make it a good tool to use for a digital B2B strategy. The numerous integration capabilities mean that Drupal 9 is by no means inferior in this regard to closed-source CMS systems.
The effectiveness of the implementation does depend on the correct combination of modules, functionality, front-end and content. As with any CMS system, it is therefore important to choose the right implementation partner. Our agency has carried out a large number of successful B2B implementations using Drupal, for instance for DHL Parcel and Leaseplan International.
Topics:
Curious what we can do for your organisation?
Tibor knows all about Drupal