Thuisarts.nl in the race for the Website of the Year Award 2020!
Thuisarts.nl makes reliable and independent information about complaints and diseases available to a wide audience. It is an initiative of the Dutch General Practitioners Association (NHG) and developed by creative & digital agency One Shoe. The platform attracts more than 155.000(!)  visitors every day.
Michel van Velde, founder of One Shoe: "During the development of Thuisarts.nl, we paid an exceptional amount of attention to creating an optimal user experience and a high degree of accessibility for people with diverse user needs. Such a high rating for Thuisarts.nl,  year after year, confirms that we have succeeded in creating a platform with a sustainable impact on people's lives ánd on healthcare."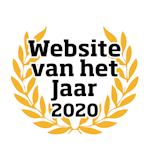 Express your appreciation for Thuisarts.nl and vote!
Do you also think Thuisarts.nl is a particularly valuable platform? Then cast your vote now and help Thuisarts.nl win the title of Website of the Year 2020!
> Vote here for Thuisarts as Website of the Year 2020!
You can vote on content, navigation, design and whether you would recommend the website to others. There are two awards per category: an award for Best Website (highest rating) and an award for Most Popular Website (most votes).
Thuisarts.nl platform with an impressive track record
Thuisarts.nl was voted the most popular Website of the Year in both 2016 and 2018, a great appreciation from the visitors of the platform. In addition, Thuisarts.nl also received the title "best Content Platform in Europe" in Berlin in 2018 during the award night of the Digital Communication Awards. This is a European prize that is awarded annually to outstanding projects, campaigns and innovations in the field of online communication. With the nomination for the Website of the Year in 2020, Thuisarts.nl has another chance to claim a top position in Dutch digital work.